Explore Your Options In Trucking
One of The Biggest Career Opportunities in The North
Chapleau • Cochrane • Hearst • Iroquois Falls •
James Bay Coast •

Kapuskasing • 

Kirkland Lake  • 

Temiskaming Shores • 

Timmins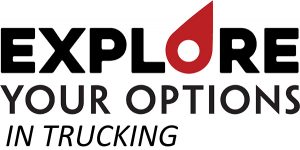 Without truck drivers, our Northern way of life wouldn't be possible.
Truck drivers are the backbone of the Northern economy and our quality of life. From staples like food, medicine and fuel to the local arenas and playgrounds our kids play in, the trucking industry makes it all possible. It supports all other local industries, creating jobs in our communities and moving billions of dollars of resources. Without trucking, the future of Northeastern Ontario would look very different.
Why Truck Driving is one of The Biggest Career
Opportunities in

The North

Almost 1000 truck drivers are expected to retire in Northeastern Ontario communities over the next 15 years. That's half of the entire industry – and we already need truck drivers right now! 
Trucking is a lucrative and rewarding career:
Independent lifestyle and flexible hours and scheduling
Job satisfaction providing an essential service
Run your own business as an Owner Operator
Good pay
Huge variety of opportunities to choose from in your community
Stimulating professional career requiring specialized skills
Not Just Long Haul!
There are dozens of different professional trucking occupations in our region, in many different industries including: Mining, Forestry, Agriculture, Construction and Transportation of Goods among others. And there are dozens of different occupations that are essential to the Northeastern Ontario economy.
Mine Site Truckers
Delivery Trucks
Dump Trucks
Long Haul Routes
Short Haul Routes
Auto Haulers
Snow Plow Drivers
Tanker Hauler
Dedicated Routes
Courier Drivers
Flatbed Trucks
Cube Van Drivers
Logging Trucks
Furniture Movers
Fuel Truck Drivers
Lowboy Drivers
Regional Routes
Local Drivers
Animal Haulers
Refrigerated Trucks
Hopper Trailers
LTL Freight Drivers
Team Driving Jobs
Oilfield Truckers
Grain Haulers
Company Drivers
Owner Drivers
Hotshot Haulers
Local Resources to Get Started